facilities and gear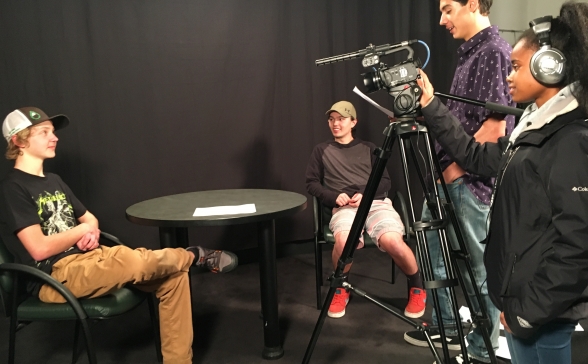 open studio hours
The possibilities for open lab hours are limitless. You will be able to meet with staff to develop a project, refresh your skills, or plug away in the editing bay to make your masterpiece. Lab hours will be offered every Thursday from noon to 8 p.m., or by appointment throughout the week.
To make an appointment for lab use, please email reserve@highfivemedia.org with your name, date, time, and equipment you'd like to use.
equipment available to community producers
High Five Access Media continually updates and upgrades equipment to offer the community state-of-the-art equipment. To find out how you can use all this neat gear to create your own masterpiece, visit Media Education.
Television Studio

250 square foot space with 13x7 stage
Three Canon XF-105 high definition cameras with tripods, dolly, teleprompter, communications
Three-point lighting system
Audio and video patch panel
Black curtain backdrop and green screen
Wireless lavalier microphones; handheld, shotgun and instrument wired mics, mic stands
Stools and chairs
Broadcast Pix Mica high definition video switcher with eight SDI inputs and outputs, two HDMI outputs, six downstream keys, Inscriber character generator, chromakey with virtual sets,
AJA KiPro Mini recorder
Presonus Studio Live 16-input digital audio mixer

Field Equipment

Canon XA-10
GoPro Hero 3 Black
Wired and wireless lavaliers
Shotgun microphone
Handheld wired and wireless microphones
Boom pole
Mic stands
Pedestal mic stands
XLR cables
Tripods and dolly
Lowel Omni light kit

Editing Gear

27-inch iMacs
External hard drive
Card reader
Final Cut X
iMovie
Handbrake
Mpeg Streamclip